With the help of Comparative Profit and Loss Report it is very easy for the company to assess its position and company's progress graph. The report is widely used in business analysis, financial institutes and banks etc. This report is a template for Comparative Income Loss Report.
The report primarily consists of two parts: 1st is its revenue and 2nd is the Income head. In Income head the company states all its sources and major expenditures. This expenditure head varies according to the business and the nature of company/institute/organization. Expenditure head usually consist of all expenses and transactions like  purchase, utilities, repairs, rent, carriage & fright, services charges, taxes, duties and all salaries & wages that is given to staff.
The template given below shows the sample for Comparative Income Loss report, it contains sample info for source of income in revenue head and most common expenditures in the expenditure head. If the comparative difference comes in positive it means favorable results and if the difference comes in negative it simply means loss. The report gains further credibility when you add other month data for overall comparisons.
The Comparative Profit & Loss Report Template is created in MS Excel and have a user friendly report format. You can easily download it from the link given below and customize it according to your requirements.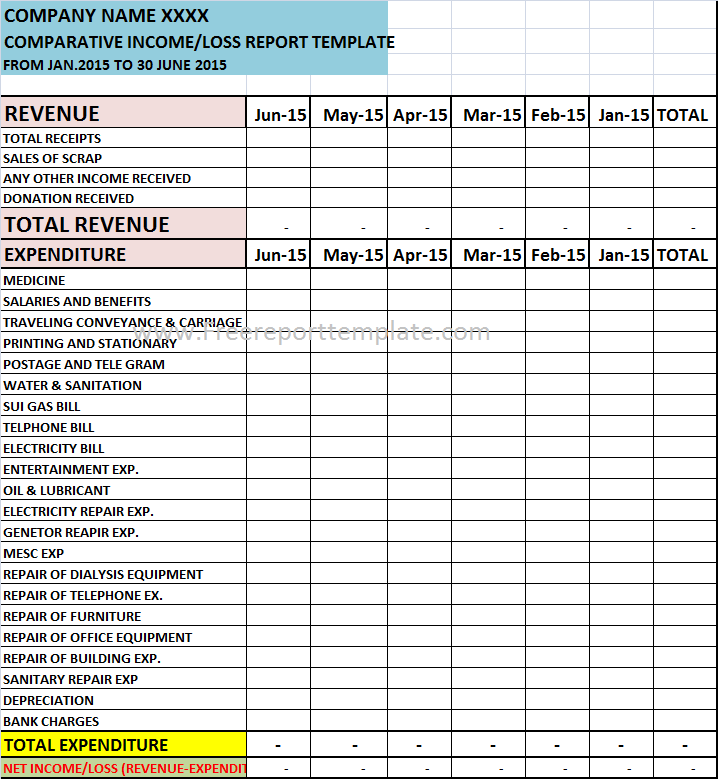 You can download the free MS Excel Monthly Report Template from the link given below: