Writing a report is very important in all genres of work. Whether it is a report about sales statistics or project statistics, it is a report manifesting the status of project going on or a summary report depicting the total overview of the work, report writing is indisputably a very concise and accurate document of easily understood and factual information.
A Work Report is usually a full account of all the progress and nature of work that is going on. It is a daily input if every detail of a work going on for the owner to have maximum view of the project all the time. As report writing should be impersonal and very formal, stating a report is a responsibility to provide all of the information as it is i.e. the positives and the negatives. (Looking for Daily Profit Loss Report Template?). Daily Work Report Template should have the capability of stating and saving all the crucial information that should enable the owner to understand the entire scenario of his project even from the other end of the world. The sample report given below is created keeping this point in view.
This format of Work Report is created specifically on daily basis. Although not all reports should be written according to the same parameter, you can specified the time according to your requisites. (Check out Daily School Attendance Report Template) Below you can see the preview of Daily Work Report Template. It is a high quality easily printable report sample created in MS Excel.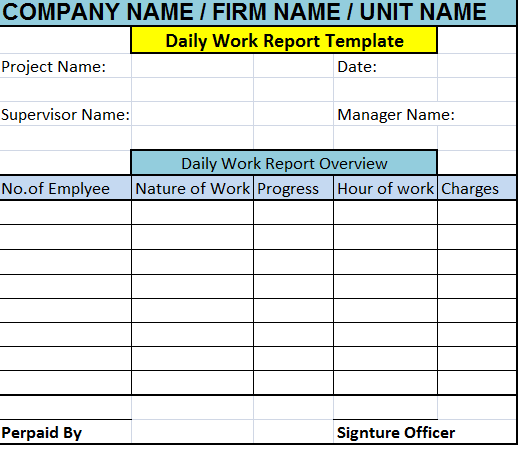 How To Write Daily Work Report Template?
The Daily Work Report Template is created keeping all the major points in mind. The report is responsible for telling you the name of the project for which information it is created. The basic information like the date/time, supervisor name/manager name or the person in hold of the project at the given time. The report then continues to give information about the number of employees that were working, the nature of the work that is being done, the progress level, the time/hours of work depending on your chosen criteria and payment/charges. You can add in any extra field or you can simply begin your report by putting the information. The report writing is obviously a subjective and factual document so you can always accommodate reports according to your need.
Below you can download free Daily Work Report Template.