Once in a while we all meet with circumstances: undesired and unplanned. In that tumultuous situation where we need someone to help us. An incidental report helps you. With the help of an Incidental report you can proceed with the case of injustice or unfair to acquire legal help. ( Car Incidental Report Template)
To write an incident report you need to put all the particulars of an incident, the cause, the loss (mention if there's any human life loss or property only) the timing, the place, the occasion hence you need to put all the details of the incident that has happened.
Here at Free Report Templates we provide an officially acclaimed template of  car Incidental Report to help you explain your matter effectively. It precisely gives you an outline of what is necessary to be written at what place. Make sure to provide the information meticulously. The report is created MS Incidental Report Template. You can edit and customize it according to you requisites without having any knowledge or training of the program at all.
Here is the preview for our Car Incidental Report Template: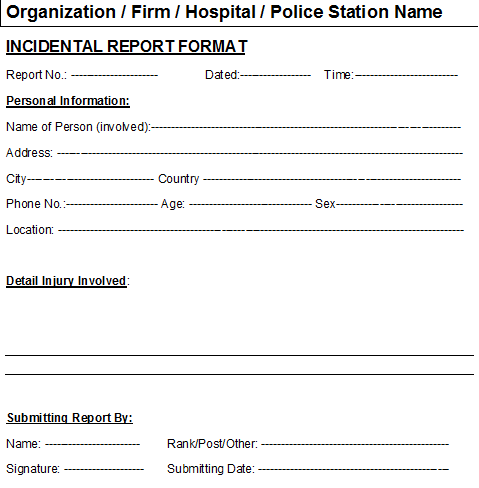 You can download the free MS Excel Incidental Report Template from the link given below: