At Free Report Templates we make it easy for everyone to make professional, realistic and effective reports with very little technical knowledge or no knowledge at all. The reports are very easy to edit and modify plus a thorough guide given about editing the report can make it very useful and friendly.
This post is the template report for Summary Report. A Summary Report Template Utility Bill contains all yearly utility bills. It enables you to have a precise overview of all the major activities that happened. The time span of the report constitutes of the demand, but mostly a Summary Report on yearly activities is more famous.
Below you can see an easy and general Summary Report Template Utility Bill. It is . It is created in MS Excel, it is basic and can accommodate any extra information that you may need. Anyone with little or no knowledge of MS Excel can use and make a professional report with this template. You can download the free report template from the link given below and customize it according to your procedures.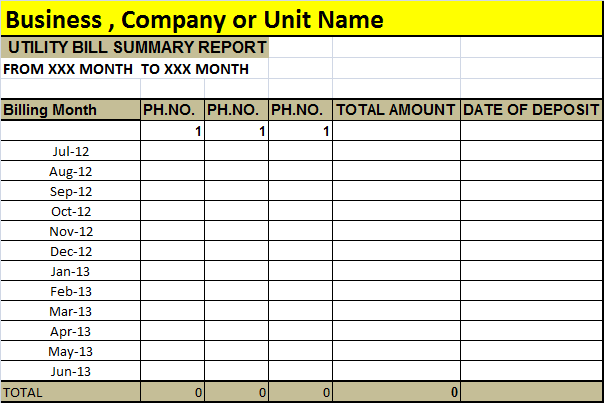 You can download the free MS Excel Summary Report Template Utility Bill from the link given below: