Whenever the a purchase is done between to parties it comprises of two main components, the cash delivered at the time and the credit that is settled to keep. Following report format is designed for Cash And Credit Sales. This report is used for larger group of companies, malls and organizations where they tend to keep the transaction at credit level so the purpose involves a clear cut manifestation of all the dues paid (Looking for Cash Sales Report Template?) and credits receivable of the amount (Check out Credit Sales Report Template.). As the purchases are large, not all of the payment is cleared on the first hand, the purpose involved remains to secure the deal between the two parties.
This excel format of Cash And Credit Report helps to sort and demonstrate the amount of credit, date, timing of the said month for which the credit is settled. It not only keeps the record but also sorts it out when it comes to the number of dealings between number of parties. It makes the record keeping easy and handy! And not only that but with the help of Cash And Credit Sales Report it becomes easy for the purchaser to make future decision of further supply or purchase. (See more Purchases Report Templates). The report is a strong evidence for the stakeholders of any company about the amount received or to be received from the customers. The report automatically saves the data of the remaining amounts between any two participants.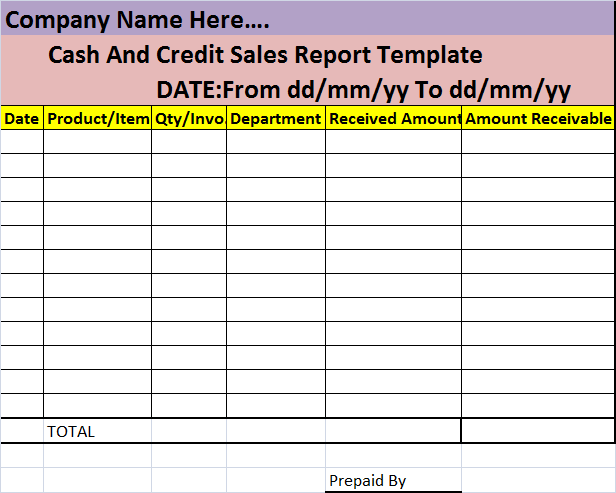 Guide And Tips About Editing Excel Cash And Credit Sales Report Template:
The report is created in MS Excel and easy to edit and customize. It is printable and has all the necessary information stated. Mention the date of settling the deal in "Date", name of the product in "Product/Item", the quantity of the product to be credited n "Quantity/Unit Sales", name/references of the department in "Department" and the amount paid/received in "Received Amount" and the amount that is settled between two parties to keep as loan n "Amount Receivable". The file format can be download from the link given below.