The statement of cash flow is one of  the main financial statements. This report performs the pivotal function. It is about cash used, circulated, transferred and generated during the specific period of time. The time period usually depends upon the company.
The statement of cash flow divided into three main categories which are following,
Operating Activities
Investing Activities
Financial Activities
So statement of cash flow show the net cash "Inflow & Outflow" during the specific period.
The template for Cash Flow Statement needs to be both precise and professional while easy to comprehend (at a glance if possible as many owner do not have so much time to go through the report in detail with proper time). Following template is created keeping all the crucial points in mind. It gives a bird's eye view of the total cash flow during specific period of time. You may also like Budgeted CF Report Template, Sales Forecast Report Template, Budgeted Production Report Template for more ideas. You can easily download the report from the link given below. Customize it according to your requirements. And it is completely free to use.
Below is the preview for our Cash Flow Statement Report Template created in MS Excel: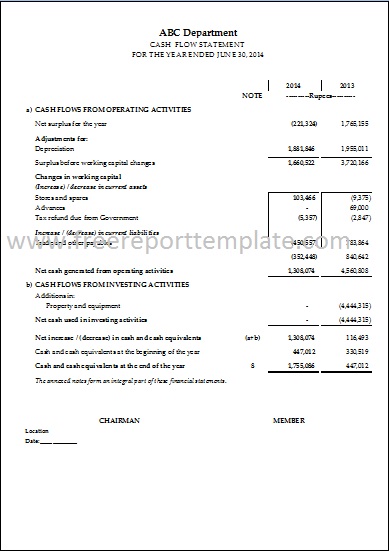 You can download it from the link below and edit it according to your requisites. It is created in Microsoft Excel for easy access and completely FREE, editable and printable.