Sales qualifies for exchange of goods over some money or security. This report is a template for Monthly Sales Analysis Report. In this modern era people do transactions of millions every day, every company, organization, firm, partnership, sole proprietors of traders and miscellaneous types business success are recognized through their sales values. It is imperative for every company to keep the check and balance of their company's transactions through these sales volumes. For this purpose company prepares several inevitable reports e.g. Daily Sales Reports, Budgeted Sales Report, Daily Sales Activity Report, Weekly Sales Status Report etc. All above mentioned report play vital role for the Chairman, Directors, Shareholder, Stockholders to predict and plan their future decisions.
Excel Monthly Sales Analysis Report Template is helpful to provide automatic assessment to their business graph. Before investing to any company every investor tend to check the history of the company's sales/products for secure investment. If he founds the background of the company satisfactory, it is only but natural that he would feel confident investing his money there. We have prepared a concise report template to help you understand and prepare a professional sales analysis report without much effort. It is simple and easy to use along with imparting accurate and to the point information.
Monthly Sales Analysis Report not only authenticates a data but alos facilitates other necessary reports for example (with templates) Daily Sales Report Template, Budgeted Sales Report Template, Daily Sales Activity Report Template, Weekly Sales Report Template, Weekly Sales Status Report Template, Weekly Sales Analysis Report Template, Sales Competitive Report Template helps the business person (Chairman,Directors,Stakeholder,Shareholder) to check their business routines; i.e. daily, weekly, monthly performances. If they found any malfunctioning through these reports, they can always take an incentive to make amendments through marketing/sales experts.
Below is the preview of Monthly Sales Analysis Report Template – In Excel: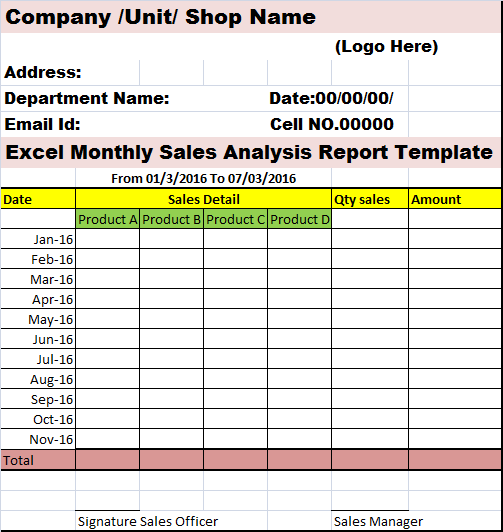 Tips And Guidance For Editing Monthly Sales Analysis Report Template:
Only if you have not had any accessibility to these reports, you would not be able to take any actions in order to manage and overcome such problems. Reporting and reports are proved to provide maximum guide to its user regarding their plans and procedures.
The Sales Analysis Report is created in MS Excel. It is easily editable and printable. Start your report with initial information like Title, Date, Address, Contact Information. As this is a 'monthly' report, your serial number should contain months along with year. Give descriptive information of your product sales as it is sub-categorised as "Product A", "Product B" and "Product C". Finally comes the "Quantity" and the "Amount".
Below you can download the free Excel Monthly Sales Analysis Report Template: