The Hospital Report Template is a sample report that provides an overall view of patient's treatment. Mostly the Hospital Report  includes the brief summary of the entire treatment that is happening or that has happened.  Hospital Comparative Expenses Report Template, Daily Sales Report Template (Hospital), Emergency Report Template, MIS/Management Report Template.
Below we have provided main Hospital Report Template format that helps you draft a good, easy and understandable format as a good Hospital Report Template or any report should be understandable for every one. The draft here is a format of Hospital Report Template it shows different departments and with its help one can easily assess the position and activity of the hospital. See also Material Issue Report Template. Below is the preview of the Hospital Report Template created in Microsoft Excel.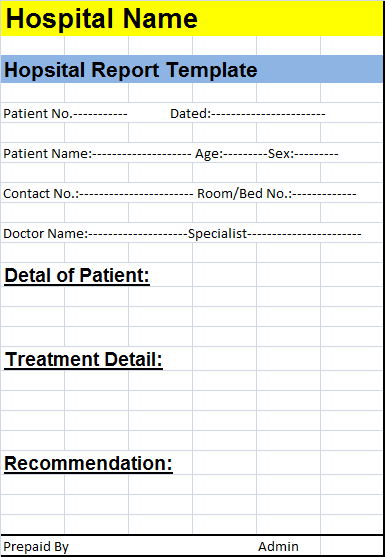 You can absolutely alter any information, color scheme that you like. You can add in or remove desired columns and rows. You can download the free Hospital Report Template From the link below.